Hello Friends and welcome to my stop on Gory Details
Blog Tour
#GoryDetails, and tag @tlcbooktours and @erika_engelhaupt.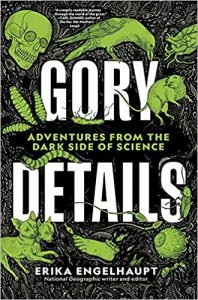 About Gory Details
Publisher: National Geographic (March 2, 2021)
Hardcover: 336 pages
Infused with Mary Roach-style humor and science, this narrative illuminates the gross, strange, morbid, and outright absurd realities of our bodies, the Earth, and universe.
Filled to the brim with far-out facts, this wickedly informative narrative from the author of National Geographic's popular Gory Details blog takes us on a fascinating journey through an astonishing new reality. Blending humor and journalism in the tradition of Mary Roach, acclaimed science reporter Erika Engelhaupt investigates the gross, strange, and morbid absurdities of our bodies and our universe. From the research biologist who stung himself with every conceivable insect to the world's most murderous mammals, this entertaining book explores oft-ignored but alluring facets of biology, anatomy, space exploration, nature, and more. Featuring interviews with leading researchers in the field and a large dose of wit, this provocative book reveals the most intriguing real-world applications of science in all their glory.
This was such a fascinating collection of facts all with compelling descriptions and snarky humor. The author introduces the reader morbid curiosity to some very intriguing questions. A dive into the somewhat gross and taboo topic, that you probably have always were curious about, and some you may never even thought of.
So get ready to step out of your comfort zone and into the dark and and a little creepy side of science. If you are anything like I am that has always been fascinated with this the obscure and twinge induced things. Than this book is definitely up your alley. I found it humorous, but also very informative about some off canter topics that have been circling around in my head.
Thanks so much for joining me today

Purchase Links
About Erika Engelhaupt
Erika Engelhaupt has written for and edited top science magazines, newspapers, and websites, including National Geographic, Science News, Scientific American, and NPR. She lives in Knoxville, Tennessee.
Find out more about Erika at her website, and connect with her on Twitter and Instagram.