Hello and welcome to my stop on the blog tour for
The Factory Girl And The Fey By Nadine Galinsky Feldman
#TheFactoryGirlandtheFey #NadineGalinskyFeldman #HFVBTBlogTours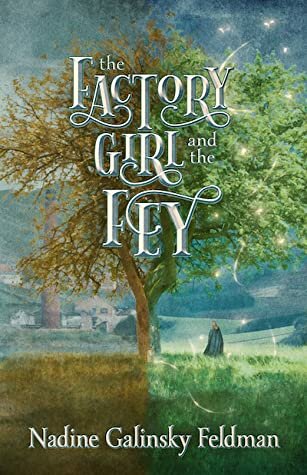 The Factory Girl and the Fey
Nadine Galinsky Feldman
Publication date: October 14, 2021 by Nadine Feldman
Genre: Historical Fiction & Fantasy
Jane Thorburn straddles two worlds: her life as a "factory girl" in Scotland's mills, and her birthright as fairy royalty. Abandoned by her parents as an infant, and uncertain about the true motives of the Fey, she learns to depend only on herself. All she wants is to be a great weaver and live an independent life.
The Fair Folk, fighting for their very survival, have other plans for her, as does the handsome and charismatic Robert Stein. What life will she choose? And will she even have a choice?
A historical fantasy inspired by the author's ancestors, The Factory Girl and the Fey is an affectionate tribute to the women who helped fuel Scotland's Industrial Age, from the workers to the poets…and to the Fey who remind us that magic is real when we believe in it.
GIVEAWAY
Enter to win a paperback copy of The Factory Girl and the Fey by Nadine Galinsky Feldman!The giveaway is open to US addresses only and ends on October 28th. You must be 18 or older to enter.
Direct Link: https://gleam.io/iPVxg/the-factory-girl-and-the-fey
REVIEW
Set in the Industrial Age of Scotland a young factory girl Jane Thorburn, tale comes to life. An historical fiction book with tons of magical realism, The Factory Girl and the Fey was a fast read. Lighthearted but also very realistic in its portrayal of the living and working conditions of the hard working people during this time period.
Mixed with fantasy and yes heartbreak, I enjoyed reading about the struggles and decisions that Jane faced. I also was captivated by the lovely addition of poetry to the start of each chapter.
This book was received from the Author, and Publisher, in exchange for an honest review. Opinions and thoughts expressed in this review are completely my own.
This is a non spoiler review, because you as reader need to read this book. Also, I feel sometimes I have in the past gave away to much of the plot line. This has diminished the pleasure for would be readers.
AUTHOR
Nadine Galinsky Feldman is an author of women's and historical fiction. Her novel What She Knew was a finalist in the 2016 Next Generation Indie Book awards. The Foreign Language of Friends was a finalist in the 2012 Next Generation Indie Book Awards, Chick Lit category. It was also named a Gold Medal Winner, Women's Issues, in the 2011 eLit Book Awards.
As an editor, Nadine produced Patchwork and Ornament: A Woman's Journey of Life, Love, and Art by Jeanette Feldman, which won the 2010 Indie Excellence Award for Best Memoir.
Her first book, When a Grandchild Dies: What to Do, What to Say, How to Cope, provided grief support to an underserved population.
When not working on her many writing projects, Nadine loves traveling, gardening, genealogy, and yoga. She lives in the beautiful Hudson Valley of New York state.
Blog Tour Schedule
Thursday, October 14
Guest Post at Novels Alive
Review at Books, Cooks, Looks
Review at With a Book in Our Hands
Friday, October 15
Review at Bibliostatic
Monday, October 18
Review at Booking With Janelle
Tuesday, October 19
Review at 100 Pages a Day
Interview at Books & Benches
Wednesday, October 20
Review at Gwendalyn's Books
Thursday, October 21
Review at Chicks, Rogues, and Scandals
Friday, October 22
Review at Pursuing Stacie
Monday, October 25
Review at momma_doc_reads
Tuesday, October 26
Review at Jessica Belmont
Wednesday, October 27
Review at A Girl Reads Bookss
Thursday, October 28
Review at Historical Fiction with Spirit